Franchettis' Featured in Sonoma County Gazette - April 28, 2021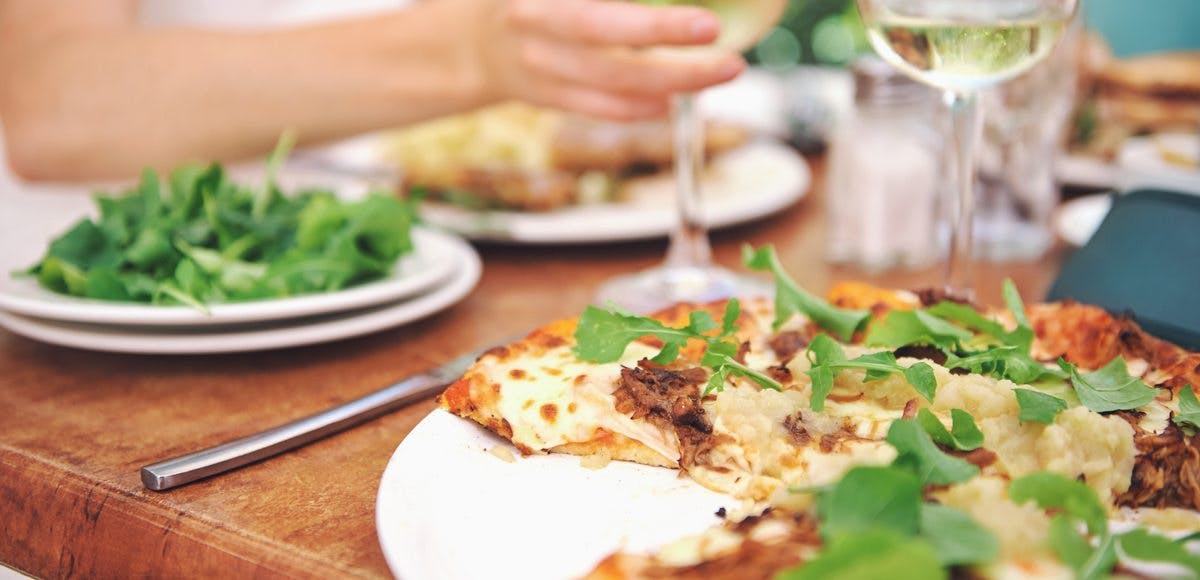 Franchettis' Food Is Fun for The Whole Fam
The Sonoma County Gazette, PETER D. POSERT, February 26, 2021 – It is not hard to find a good schnitzel with a side of spaetzle in Sonoma County, you just have to know where to go scouting out schnitzels. Now, you need look no harder than heading out to Franchetti's on North Dutton. I got a tip from the delightful 6-year-old Queenie Richie that Franchetti's has the best pizza anywhere, and her wonderful Mum, Carrie Lady, told me about the schnitzel, too. Six-year-old Queenie is right, of course. Franchettis offers up some of the best pizza in Sonoma County, and a whole lot more as it may be the whole North Bay Region's last remaining central/western European standout restaurant – a feat in itself in these days of conformity and safety.
Here's what you'll find at this singular restaurant.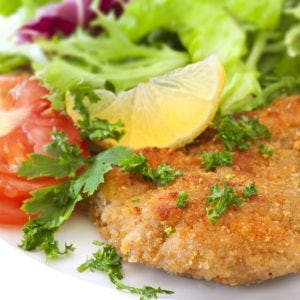 Franchetti's is tucked into the back corner of a non-descript office strip mall. The inside decor looks great. The bar is small but full of goodies. The kitchen is open but a distance from the tables. This must be a lively hot spot when things are open, and it is really cool on the patio right now, too.
The appetizers are fun. Crab Arancini, a dark and crisply cooked risotto ball with a nice crunch over the light, fresh crab is dreamy on a crab-season winter's night. The balls rest on a platter of delightful dressing sprinkled with chives and olive oil. It's more of a croquette than a gougere but without the gooey filling; it is firm and just deliciously Crab-y!
The Kartoffel Puffer are fluffy light potato pancakes, served with sour cream and apple sauce. This is a traditional dish from so many central European cultures that it is hard to place it in one, other than down-home-cookin' goodness.
The calling-card-dish Schnitzel comes in two sizes, very large and very larger! The house specialty is the larger-larger, the Tellerschnitzel, which could easily feed a family of four for a $29.00. The key is a unique crust developed by Chef Franchetti, using crushed pretzel for an extra crunchy texture. If you have ever wanted to say, "I'll have a pretzel crusted schnitzel with a side of spaetzle," you need to go to Franchetti's just for fun. I was left wondering, "Did Mozart make this dish for me?" The key, besides the pretzel crust, is the velvety mushroom sauce that sings like an aria from the deep, slow roux. This may be the best mushroom sauce in Sonoma County. You could put this sauce on a 1000 dishes and never tire of the flavor.
Franchetti's is a unique restaurant indeed.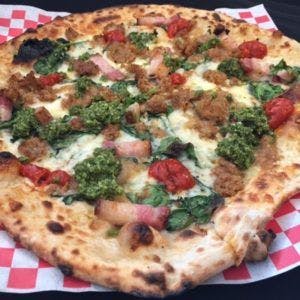 There are a few pizzas, too, which make the restaurant truly kid-friendly. Refreshingly thin crust pizza arrives without the commonly overly burned edges, just perfectly dark brown. A standout is the Pizza Rosemarin E Fungi (Rosemary Mushroom) at $21. There is no sauce, but none is needed for this is a full-flavored, cheesy wonderland of flavor that will leave you wanting to see the menu for the other combinations for next time.
The Cauliflower Mac & Cheese has browned crunchies over the baked cauliflower that all swim a nutmeg-toned cream sauce. There's enough for two or three kids, young or old, here.
Franchetti's has a bold European beer and wine list, too. It's small, but the offerings on the wine side are interesting and adventurous. The white side lists Pecorino, Gruner Veltliner and a Weissburgunder with a few scattered locals. The Weissburgunder (Pinot Blanc) from Pfalz was beautiful, like drinking a cool spring rain. With all the mushroom dishes, the red Blaufrankish could be a good choice, too. A great twist is the small bar offerings, including the rarely seen and wonderful French 75 – perfectly balanced and refreshing. The beer list is a God-send. It leans towards rare and obscure Munich based froths that require quality malt blending and precise mashes. It's actually a spectacular anti-IPA beer list without making a fuss about it. A young adult could get a beer education at Franchetti's.
This place keeps surprising with every turn of the page.
Franchetti's is a fun place, with interesting alternatives to another burrito, burger or bar food. As the restaurant and cuisine world contracts from the Covid virus, we need to keep our eyes on the specialty places that make our county exciting and eclectic. The Sud Tyrollian/Alto Adige based Franchetti's is one of our county's most unique destinations. You don't need to take my word for it either. Just take a tip from the Richie Family, Queenie and Carrie Lady, and you'll be all right with your restaurant dollars.
Click here to read the original article!
You can reach Peter D. Posert at:
(707) 971 – 9636 or posert@sbcglobal.net.