Enjoy Thanksgiving Dinner From Franchettis' - November 2, 2020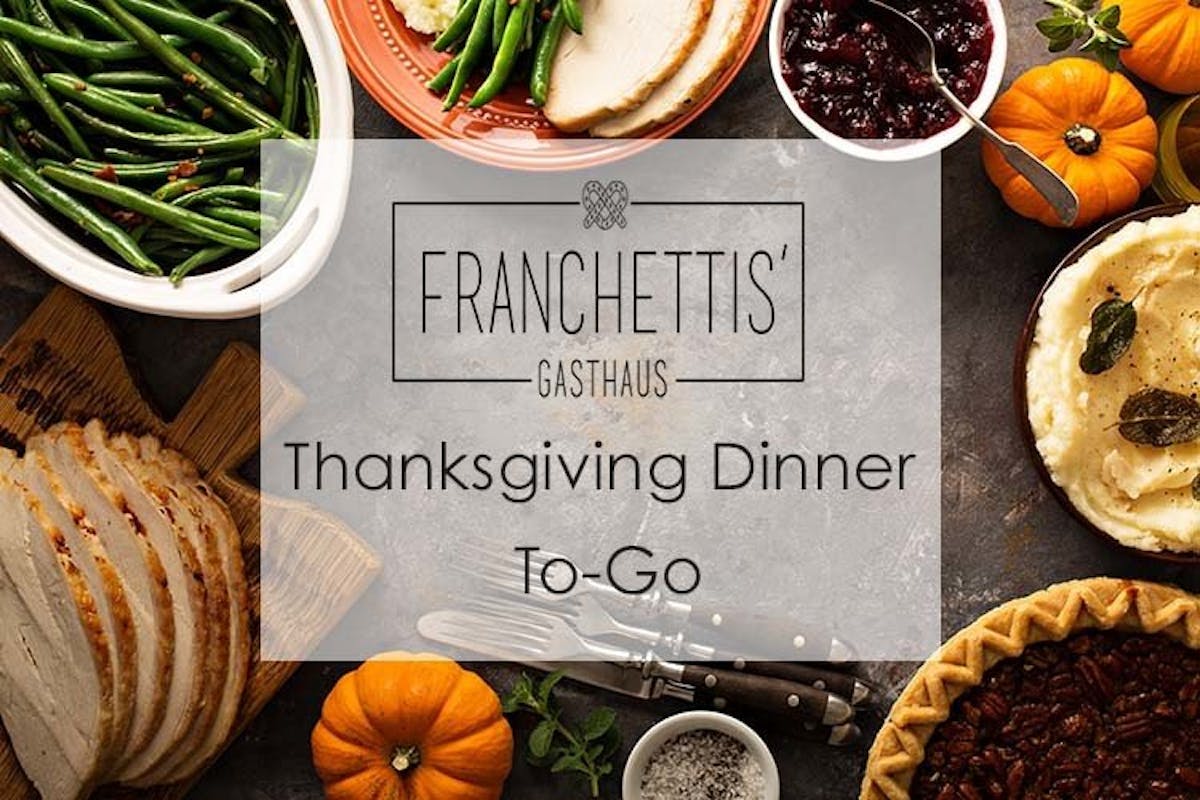 Don't Miss out On Franchettis' Thanksgiving Dinner To-Go!
The 2020 holiday season comes with some added safety concerns and travel restrictions that have probably left your Thanksgiving dinner guest list a little smaller this year. If you aren't hosting a huge Turkey Day event and want to take it easy, we are here to help. Skip all the grocery shopping chaos, tedious food prepping, and overly-complicated cooking times with Franchettis' Thanksgiving Dinner to-go!
Our pre-cooked, meal prepared for two to four might be the perfect option for your family's Thanksgiving dinner, minus all the fuss. Plus you will still get to enjoy all the delicious aromas of a home-cooked Thanksgiving dinner when you pop your Franchettis' Turkey Feast into the oven to warm up!
To paraphrase a recent Bon Appétit article – Even if we can't fill the seats, we're still filling your table this Thanksgiving!
Pre-Order Starts: November 1st
Schedule for Pick-up: Wednesday, November 25th from 4pm – 7pm.
Thanksgiving Dinner for 2-4 What You Will Receive:
First Course
Sweet Potato + Fried Sage Arancini's, garlic aioli and
Burrata + Prosciutto Plate with Roasted Persimmons and Hazelnuts, aged balsamic
Main Course
Roasted Turkey Carved Boneless White and Dark Meat:
three-day roasted garlic and shallot brined roast of Turkey, basted with five herb chili lemon marinate
+ Cauliflower infused Mashed Potatoes
+ Crispy Chick Pea, Roasted Green Bean + Kale, Date Gremolata
+ Cranberry Sauce and Turkey Gravy
Dessert Bites, one of each per person
Franchettis' Apple Strudel with Calvados Whipped Cream and
Silky Pumpkin Custard Pie
Order additional regular size dessert at $7 per person
Order Additional Sides 7.
– Pure indulgence Leek and Potato Au Gratin
– Roasted Carrots and Sweet Potatoes, with
– Ancho Chili and Maple Glaze
– Chick Pea, Roasted Green Bean + Kale Stew, Date Gremolata
– Savory Spanish Chorizo Cornbread Stuffing
Beverages to Go:
Jardesca Botanical Spritz cocktail kit 55.
Be your own Bartender, we will provide all the ingredients and details instructions on how to craft this delicious festive drink to pair with your Thanksgiving meal.
If cocktails aren't your thing, don't worry! Order a bottle of wine from Franchettis' to go with your Thanksgiving feast and get it for half the price!
Curbside Pick-Up
Pre-order your Thanksgiving dinner from Franchettis' restaurant starting November 1st, 2020, and schedule your desired curbside pick-up time!
Pick-up Wednesday, November 25th from 4:00 pm – 7:00 pm.
How to Order Your Thanksgiving Dinner To-Go from Franchettis'
CALL IN YOUR Pre-order Wednesday-Saturday 12-7:30pm 707-526-1229
Connect with us on Facebook to stay up-to-date on in-door dining regulations at Franchettis'! If in-house dining is deemed safe by local officials Franchettis' will happily take Thanksgiving Dinner reservation! Eat well, and stay safe!
Want to enjoy Thanksgiving Dinner at Franchettis' on the Patio?